Our team of experts and the level of experience we have in the industry give us an edge in this field. We become involved with our customers from the initial stages where the requirements are defined and parameters set to minimize wastage of both time and resources.
Cold storage types
Normal refrigerated cold store

Freezer room

Combined storage warehouse

Cold store with processing lines

Cold store with storage and processing facilities

Cold storage with social blocks for the employees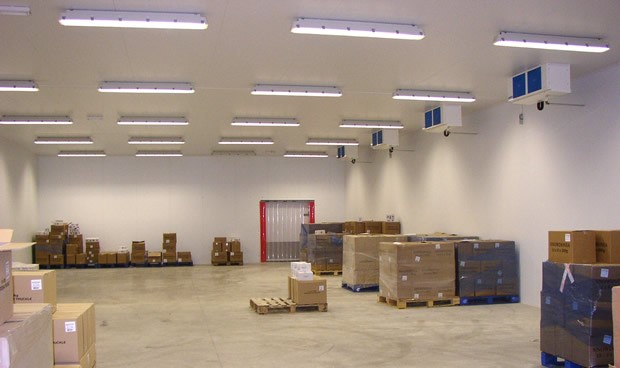 Facilities
Optional blast freezing or IQF system
Various door versions: hinged, sliding, lifting, fire rated, sectional, high pressure and clean room doors, glass doors
Materials: PU panels from 60 mm to 200 mm
Surfaces: painted, stainless steel, aluminium, etc.
Floors: floor construction fit for high loading
Floor insulation types: under concrete for high loading, panel floor for light loading
Floor surfaces: hexafloor, aluminium, stainless steel, lean polymer, etc…
Under floor heating cables to prevent hidden floor frosting and damages
Pressure valves against vacuum damages
PVC corner covings for the hygienic standards
Bended aluminium corner covings for specific standards
PVC, PE and other bumper systems
Our cold rooms and freezers are available from smaller sizes to bigger walk-in models. There are no dimension limits. Special sizes can be customized to any storage space or facility available.
Both commercial walk-in cold and freezer rooms can be built by painted metal or stainless steel. For special purposes we can use other materials as well. For example PE coated or wooden patterned walls.
The Floor
While walk-in cold rooms can be used with or without insulated floors, freezers MUST have insulated floors. For cost saving and hygienic reasons, we do not propose use of insulated floors in positive temperature cold rooms.
Customized Designs
There are many advantages for our flexibility. No standard sizes. No modular system. Our products are customized according to the needs of our customer. We can manage all of your special demands such as glass doors, special floor, silent condensing unit, shelving system, etc.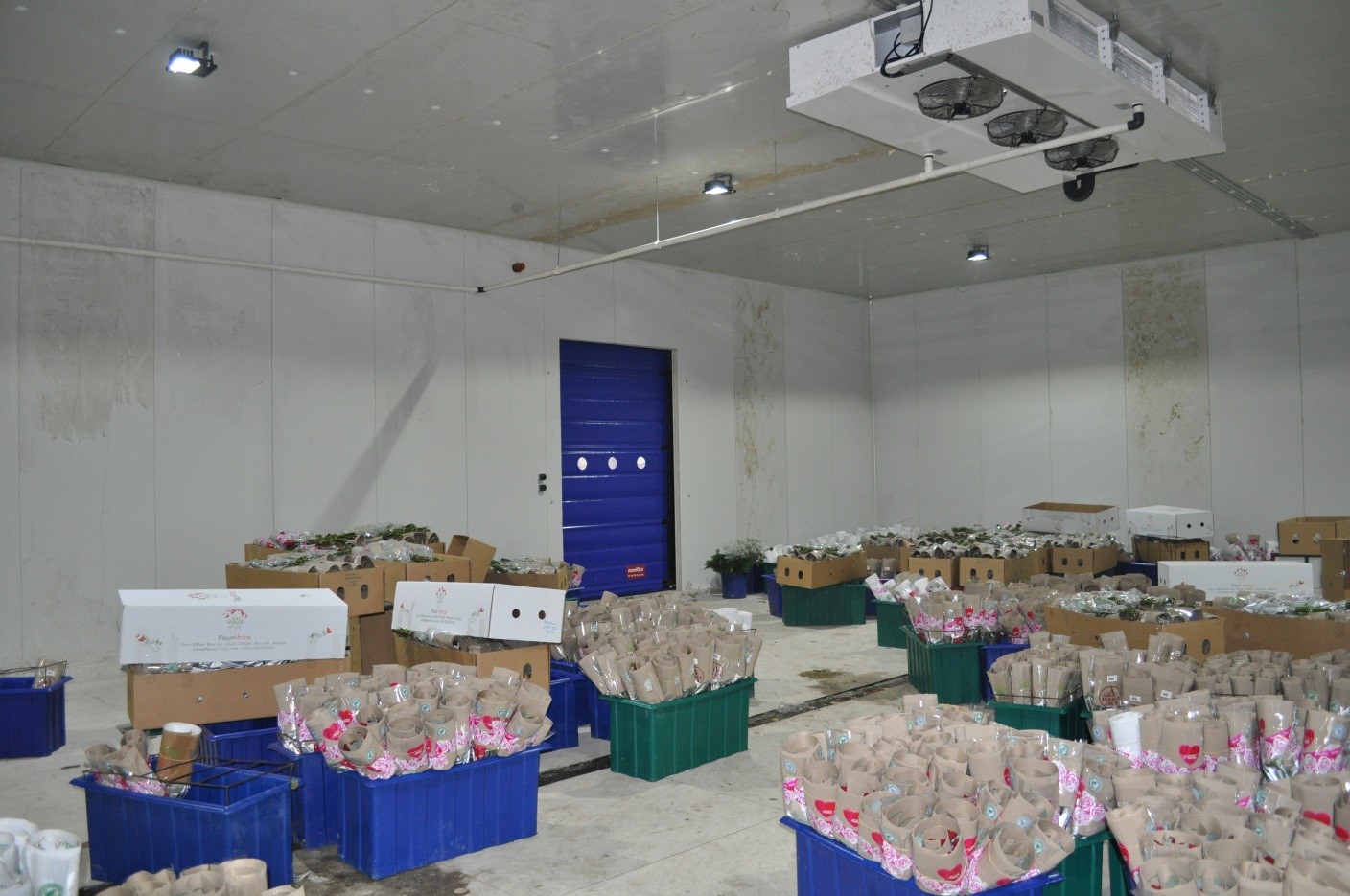 Can be customized to suit your predetermined space

Exact panel connections at the corners

Always a unique look by choice

Easy and quick assembly

Dismountable design – easy to resettle

Long durability due to perfect construction

Energy saving with customized PU panels

Efficient space utilization

Balanced refrigeration system
Commercial cold rooms  & freezer production
Our cold rooms and freezers are made of modern PU panels, which fulfils all hygienic and legal requirements. Special panels for example fire safe and PE coated types are available.
We support other cold room owners who currently use other type of cold rooms or freezers. We can manufacture doors and other spare parts in various dimensions to replace damaged ones.
The Standard Doors
Hinged doors

Opening types: left – right, double leaf, asymmetric double leaf

Options: door switch relay, window, bumpers, PVC coating

Sliding doors
The Glass doors
Available types: Double or triple glazing (for chillers or freezers)

Opening mode: hinged or sliding types

Frame: aluminium or plastic frames (stainless steel covered is an option)

Individual opening sizes, customized design for the end-user

Built in lightning with fluorescent lamps or LEDs

Thickness: depending on frame and glass thickness
Refrigerated Containers
We are specialists in Refrigerated Container Conversions. We can transform standard containers into chilled storage cold rooms or freezers, making them suitable for storing and transporting fresh produce, chemicals, or other goods. Our Refrigerated Shipping Containers are suitable for transportation and storage of temperature sensitive products such as food or chemicals. All our conversions are undertaken by qualified, experienced personnel. Shipping Container Conversions include the addition of insulation for the sidewalls and ceiling, slip-proofed and abrasion resistant floor, and of course the built-in condensing unit and evaporator.
We supply all grades of refrigerated containers from static storage to containers for shipping. We can offer customized modifications such as inside lighting, stainless steel surfaces, PVC curtain, solid bumpers, etc. We provide a short lead-time for container conversion. Our refrigerated
Containers are also available with diesel driven motors for boondocks use (consumption: 1.5 – 2 liters/h).

Container refrigeration system for dual-temperature capability:
We can split a container into two variable-size compartments, each with different temperature requirements. It can cool one compartment and freeze the other, thus saving on power cost. The benefits include better container utilization and lower shipping costs.
Instead of shipping two partial loads requiring different temperatures in separate containers, they can be shipped within a single 40-foot-high cube container. The rear compartment delivers the standard frozen set-point range of –18/-22°C, while the front compartment offers a range of 0 to +5°C. An insulated bulkhead partitions the container into two sections.
Field of use of refrigerated containers:
Marine transportation
Rail and continental transportation
Temporary use
Military use
Emergency and Aid use
Advantages:
Easy and flexible handling
Complete moveable refrigeration system
Designed for transportation
Suitable for temporary use
Suitable for military or emergency use
Can be delivered within few weeks across the globe

Facilities:
PU sandwich panel insulation inside
Insulated floor
Insulated cold room door system
Different types of plugs
Electricity: 400V/3~
Diesel driven refrigerated containers are available
Our refrigerated containers are also available with diesel driven motors for boondocks use (consumption: 1.5 – 2 liters/h). Your transformed container can be transported to any location worldwide.
Blast Freezing & IQF Technology
We are dedicated to bring you the most affordable blast freezer and rapid freezer technology.
We can take your freezing technology to new levels by offering you high quality freezing systems made to your specifications.
Why is blast freezing better than simple slow freezing?
In freezing, a proportion of the water undergoes a change in state to form ice crystals. Slow freezing forms big ice crystals in the product. The crystals form cells and destroy the structure of the product. Fast freezing forms many small ice crystals that leave the original product structure intact.
This ensures the colour, texture, flavour, and nutrients are locked in for your frozen food. This state of technology provides the end user the enjoyment of a freshly prepared product right in their store. Since the meal is frozen, it keeps its nutritional value and taste intact. It is evident that the more rapid the freezing rate of food, the greater will be its quality upon thawing.
Field of application:
Frozen food stuff (vegetables, seafood, meat, fruits, etc.)

Frozen and blast chilled ready meals (for restaurants and meal deliveries)

Frozen ready baked and partially baked pastry

Prepared foods

Industrial applications (for testing environments)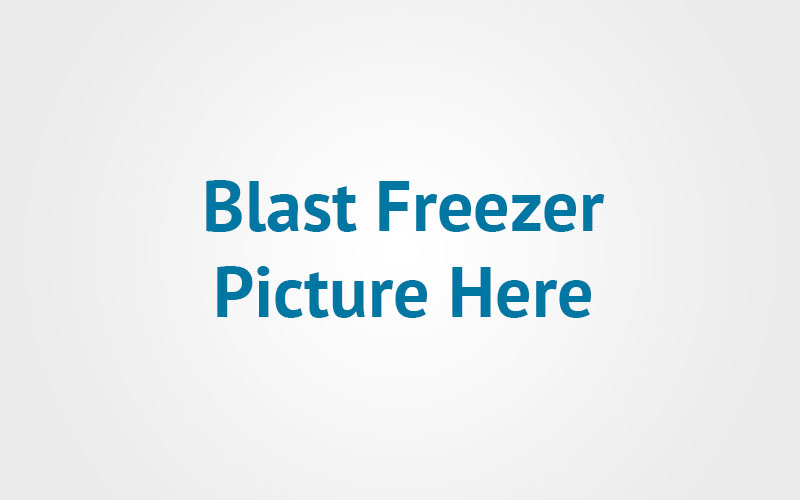 IQF Technology
IQF means Individually Quick Frozen. Using this technology, you can freeze each and every piece of a particular product rather than freezing a big chunk of the same product together. In any other form of cooling, cold emanates from all four sides. Under IQF, every single piece is individually frozen.
Blast chillers
Food safety is an important reason to buy a blast chiller but not the only reason. Blast chillers are not just a complicated oversized refrigerator in the corner of the kitchen that is used to comply with someone's HACCP plan.
Products from a steam table, for example, can often be recycled the next day because they can be chilled quickly and safely and not lose quality in the process. Food quality also is improved because of the rapid chilling process itself.  Rapid chilling stops some of the deterioration that begins thereafter.
Energy Saving
Up to 50% savings can be made on energy through proper installation, sizing and maintenance of commercial cold room systems. Proper detailed maintenance of the cooling systems will increase system performance and reduce energy consumption.  When done twice a year, these relatively inexpensive check-ups can ensure your cooling systems are operating at optimum. We offer professional advice on energy saving solutions for your cold storage facilities.
The most important feature in our technology is the flexibility. There is no limit to customization of cooling units and our equipment. Al our products can be personalized.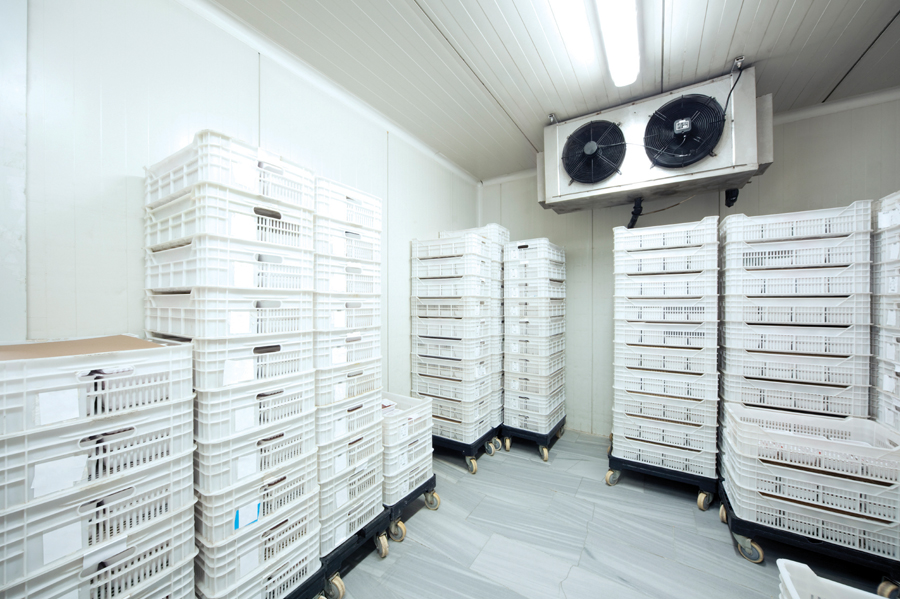 Product range
Cold rooms

Freezers

IQF machinery

Glass door chillers

Mortuary units
Wine caves

Refrigerated containers

Flower chillers

Cold stores