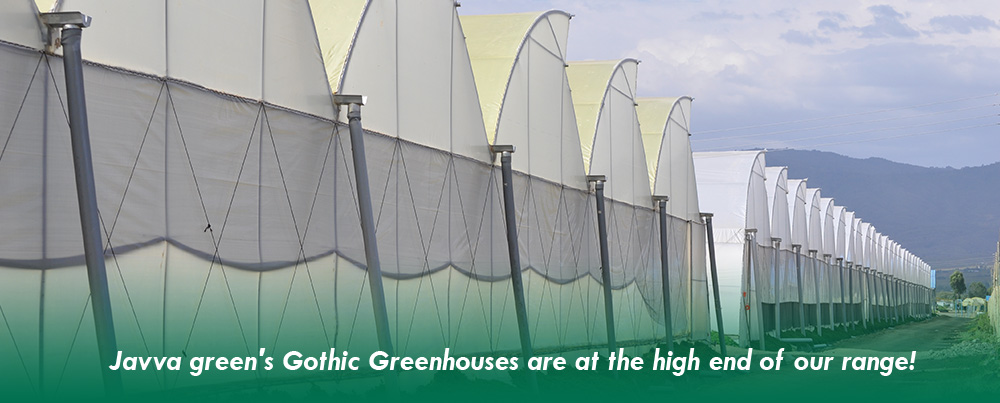 Javva green's Gothic Greenhouse is at the high end of our range! This wide span greenhouse holds a huge volume of air, enabling it to provide a stable climate for any crop. The keenly calculated price to quality ratio and technical highlights make this a very popular greenhouse. It's selling points include the abundance of air and light it provides the optimal incidence of light and good ridge ventilation as well as with standing heavier loads.
Javvagreen makes this greenhouse under its own brand: Javvagreen, and are categoried into Fixed Vent, Movable Vent and Fully Automated, according to there ventilation flexibility.
Our gothic greenhouses can be covered with poly film or Corrugated Polycarbonate. Polycarbonate panels are very light and very strong, and compared to most other greenhouse glazings (except glass), polycarbonate will last a long, long time.
This greenhouse can be made to measure for any crop; anywhere in the world.
Our structures offer maximum ventilation and can be supplied with single or double sided ridge ventilation. The greenhouse can be supplied with a variety of films.
Standard features
The standard dimensions of Javvagreen's gothic greenhouse are:
Width:9.6m, 11.2m and 12.8m
Height on canal: 4 m – 5 m – 5.50 m
Zentith Height: 5.80 m – 6.30 m – 6.80 m
Distance between pillars: 5 m (inside) – 2,50 m (outside)
Advantages of Gothic greenhouses:
High structural durability and resistance to corrosion.
Efficiency fixing plastic cover. (good seal).
Fast and seamless installation.
More distance from the vent to the crop.
Easy slip condensation.
High ingress of light.
Increased ventilation.
Allows mechanized farming inside.
Fundamental structural parts
Pillars:
Perimeter Pillars: Hot galvanized profiles.
Interior Pillars: Hot galvanized profiles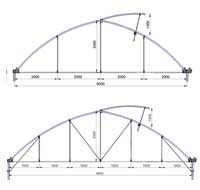 Pointed arch:
The curve is slightly pointed at its highest point, you will be called
Gothic arch and has a greater height in the model ridge chapel.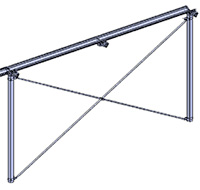 Reinforcements
Edge Reinforcements: 1 vertical and 2 diagonal reinforcement every 5 m
Interior Reinforcements: K Reinforcements or St. Andrew's crosses.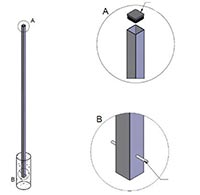 Supports:
Cylindrical Concrete blocks placed in situ made on small caissons